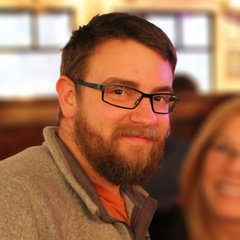 Mitchell Wilson
Sample Content Manager - Epic Games
Raleigh, NC, United States of America
Summary
I am a 3d Artist primarily focusing on hard surface and environment work. I have knowledge of several programs that encompass this field and I am always eager to learn new things.
My current focus is improving my skills with procedural texture creation using Substance Designer.
I am currently employed at Epic Games as an Engine Content Creator. I work closely with Embedded and Release Engine QA to maintain and update samples and template content for the Unreal Engine 4 and assist with images and video relating to UE4 release notes.
Skills
3D Modeling
Digital Sculpting
Texture Baking
Software proficiency
Experience
Engine Content Manager at Epic Games

Raleigh, United States of America

Guide the development and maintenance of the sample content library for the Unreal Engine.

Engine Content Creator at Epic Games

Raleigh, United States of America

In this role I work closely with Embedded and Release Engine QA to maintain and update samples and template content for the Unreal Engine 4 and assist with images and video relating to UE4 release notes. My responsibilities are outline below.

- Fix issues related to samples content or code and blueprint template projects.

- Create and update content in samples or template projects when necessary to improve quality.

- Communicating with leadership, production, and Engine QA to prioritize issues for release.

- Work and communicate with content developers to resolve issues.

- Assist in capturing screenshots and video relating to new release notes.

Embedded QA Tester - Unreal Engine 4 at Epic Games

Raleigh, United States of America

September 2015 - July 2016

Embedded QA Tester - Unreal Engine 4 as a contractor on the tools team. My responsibilities are outlined below.

- Create excellent test cases to help ensure the quality of Unreal Engine 4

- Execute test cases with attention to detail

- Work with developers and content creators to identify and work through bugs

- Creatively problem solve through working with development team

- Communicate issues and escalate if needed by understanding "bigger picture"

- Strive to become a Subject Matter Expert